Welcome
Many people do not think of their everyday problems as being "legal problems" and do not know that they can get help. People living in poverty are more likely to report multiple problems such as bad health, unemployment, low income, poor housing and family breakdown.
Halton Community Legal Services has created this check-up to help people who are living in poverty so they can identify legal problems and get help. Funding for the project is from Legal Aid Ontario's Fund to Strengthen Capacity of Legal Clinics. A research and evaluation pilot project has been completed in Halton Region and this funding is now being used to support the use of the check-up by: Community Legal Clinic, Brant Haldimand Norfolk, Halton Community Legal Services, Hamilton Community Legal Clinic, Legal Clinic Guelph and Wellington County.
Starting in May 2016, nine additional community legal clinics in Ontario's Southwest Region are implementing the Legal Health Check-Up (LHC) approach to identifying and meeting unmet legal needs: Chatham-Kent Community Legal Clinic Community Legal Assistance Sarnia Elgin Oxford Legal Clinic Huron-Perth Community Legal Clinic Justice Niagara Legal Assistance of Windsor Neighbourhood Legal Services London and Middlesex Waterloo Region Community Legal Service Windsor-Essex Bilingual Legal Clinic.
Who is this website for?
If you do not have enough money to live on, a good home or job, or family, social and health supports, your legal health may be at risk.
This check up covers some of the legal problems we help people in our community solve everyday.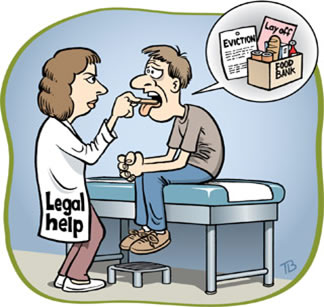 Click here for a survey demonstration
Quick Stats
3749
Surveys Completed
15861
Legal Problems Identified
1370
Legal Advice Requests
1307
Legal Information Requests
688
Public Legal Education Requests
433
Intermediary Groups